Jersey Short Sleeves "Superlight" – Men
Designed for hot summer days
The men's Super Light jersey has been designed for hot summer days when the cyclists jersey demands the ultimate in terms of breathability and weight savings. The sleeves are made of our light FtexNet ™ mesh. The FtexHydro ™ fabric allows sweat to disappear rapidly, which keeps the body dry. It is incredibly light and ideal for both running and mountain biking. Regular fit.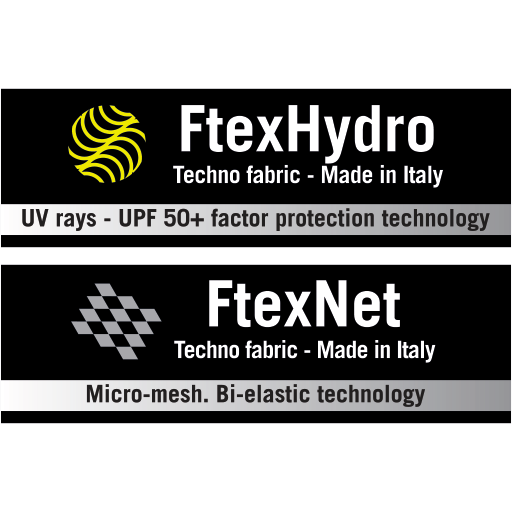 • FteXHydro™ italian fabric and inserts in FtexNet™
• Flat collar
• Full and divisible zip
• Elastic around the waist with silicone grip
• Three rear pockets
• Rear reflective details
• Entirely Made in Italy .
| | |
| --- | --- |
| Code | J110110 |
| Climatic range | 18°-32°C – 65°-90°F |
| Fit | REGULAR: Close fitting. Both aerodynamic and super comfortable. It carefully follows the body's anatomy to attenuate the wind resistance. Maximum comfort while pedalling in the saddle is guaranteed. The most popular choice by our customers. |
| Material | FtexHydro™. Polyester and elastane fabric. Breathable, bi-elastic, light, and soft. It hugs the body without compressing too much. The unmistakable silk look and feel distinguishes it from others, without losing the technical characteristics. It is resistant to peeling, creams and sun oils. HydroFtex ™ protects against UV rays with UPF 50+ factor. Standard certificate 100 of Oeko-Tex®. All of which has been studied for summer garments. |
| Material | FtexNet™. Innovative fabric in polyamide bi-elastic micro-mesh. It guarantees the natural evaporation of sweat, leaving the skin of the athlete fresh and dry and avoiding unpleasant irritation. When used in combination with other fabrics, NetFtex ™ creates perfect ergonomic, aerodynamic garments for summer. |
| Sizes available | 4XS - 3XS - 2XS - XS - S - M - L - XL - 2XL - 3XL - 4XL - 5XL - 6XL - 7XL |
| Weight | 145 g. / 5,11 oz. |